No two washrooms are the same and whether it's down to tricky dimensions, or the scale of works you plan on doing, there is a toilet to suit every environment. Close Coupled Toilet is the most popular toilet during our bathroom. Henan Fohome sanitary ware CO., Ltd is a Professional close coupled toilet supplier in China.
Why is it called a close coupled toilet?
This is perhaps the style of toilet you will most commonly find in the UK these days. Close coupled toilets have the cistern attached to the toilet bowl, creating one streamlined unit which combines both essential parts. The pipes are hidden within the casings of the toilet and their compact nature means they are perfect for fitting into small or awkward spaces. For example, if there is a minor recess in your bathroom wall, having a close coupled toilet fitted in there may make the most of the space. These toilets are both quick and easy to have installed, making them ideal for any bathroom suite.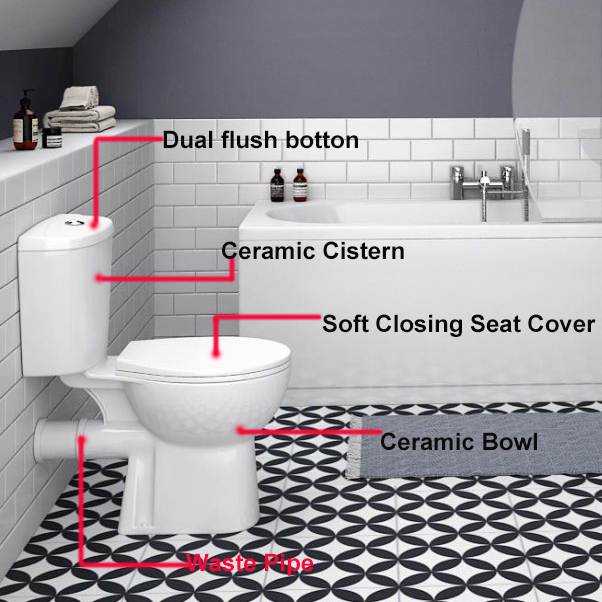 Why choose a close-coupled toilet?
With the cistern being directly attached to the toilet pan, this type of toilet is incredibly easy to install. If you already have a close-coupled toilet in suite that you want to replace, then it can be much simpler to go like-for-like. This is because the spacing of a close-coupled toilet is different from wall hung toilet or back to wall  toilets where the waste pipe will need to be altered. In small businesses, or where a particular design aesthetic is being sought, these can be a great option.
How does a close coupled toilet work?
The toilet bowl and cistern are connected together allowing the water to evacuate from the cistern into the bowl using either a flush button or handle. Most models will have the option of either a 3 litre or 6 litre flush, which puts you in control of your home's water consumption.
How popular is a close coupled toilet?
A close coupled toilet is one of our bestselling styles for European and Africa market. They are easy to install, low cost, durable and hard wearing, most come with a dual flush button, they're available in short projections which is ideal in a small bathroom or en-suite and they're immune from water damage.
Is a close coupled toilet old fashioned?
Only if you want it to be. We have a huge range of close coupled toilets to choose from with highly modern designs or classic traditional designs depending on the look you want to achieve.
Best selling close coupled toilet from Fohome
Benefits of a close coupled toilet
The benefits definitely outweigh the drawbacks with this toilet. Here's a quick rundown…
Hardwearing
Fashionable
Modern or traditional styles available
3 or 6 litre flush available on most models
Easy to install
Creates a minimalist look
Low cost
Short projections available for small bathrooms or en-suites
Immune from water damage
Some styles are available in a comfort height option
We, Henan Fohome Sanitary Ware Co., Ltd can supply different types of close coupled toilet, welcome to contact me for details.
annie@fohomeceramics,  Tel: +86-139-37950777